LANmark-OF UG 24x Singlemode 9/125 OS2 PE Black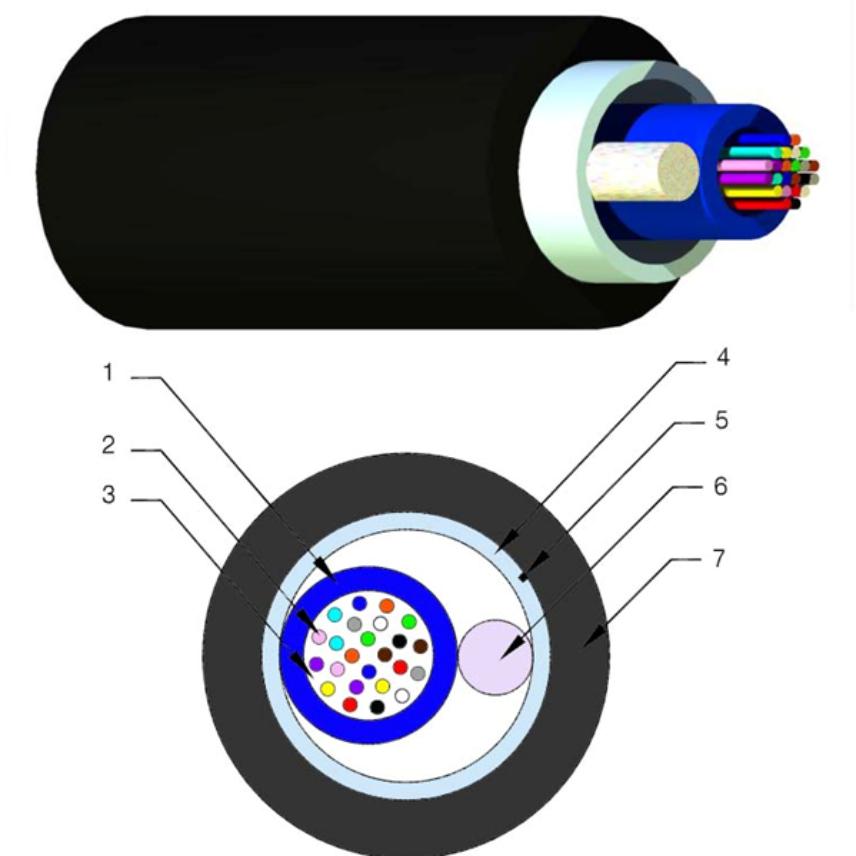 • Unitube-Außenkabel für die Verlegung in einem Kabelkanal
• Schutz durch Glasgarne und PE-Mantel
• Installation durch Ziehen und Einblasen
• Wasserdicht und nagetiergeschützt
Mehr lesen
Nexans ref. : N164.UGPE24B
Beschreibung
Beschreibung
Normen
International

ISO/IEC 11801
Description and Application
The cable consists of an unitube or multitube loose tube structure surrounded by watertight glass yarns and a PEHD jacket.
The cable is watertight due to the gel in the loose tube and the watertight yarns. The glass yarns also provide rodent protection.
The reinforced cable can be installed outdoor in a duct by pulling or by blowing. The PEHD jacket has excellent friction properties for this installation type.
The UG-type has one unitube with 12 or 24 fibres. The MG-range contains multiple loose tubes. Each loose tube has 12 fibres. The maximum fibre capacity is 144 fibres for the MG-family.
Diameter of the fibres is 250 um. Termination of these fibres is done with splicing of pigtails.
Construction
Legend accompanying the cross section drawing:
Loose tube
250 µm fibres
Gel
Reinforcing waterblocking glass yarns
Ripcord
FRP strength element
Outer sheath of PE
Features
Outdoor cable for installation in a duct by pulling or blowing
Designed for termination by splicing
Unitube or multitube cable around central strength element
Full dielectric design
Waterproof structure
Rodent retardant
Wide temperature range
Eigenschaften
Eigenschaften
Konstruktionsmerkmale
Konstruktionsmerkmale
Abmessungsmerkmale
Abmessungsmerkmale
Anzahl der optischen Fasern
Mechanische Eigenschaften
Mechanische Eigenschaften
Max. Zugkraft (IEC 60794-1-2-E1)
Querdruckwiderstand (IEC 794-1-E3)
Mechanische Festigkeit gegen Schläge
Anwendungsmerkmale
Anwendungsmerkmale
Dynamischer Mindestbiegeradius während Anwendung
Mindestbiegeradius bei statischem Einsatz
Umgebungstemperatur bei Verlegung, Bereich
Unsere Websites
Wählen Sie Ihr Land aus, um unsere Produkte und Lösungen zu finden