LANmark-OF ENSPACE HD Patch Panel 1U 8x Modules Black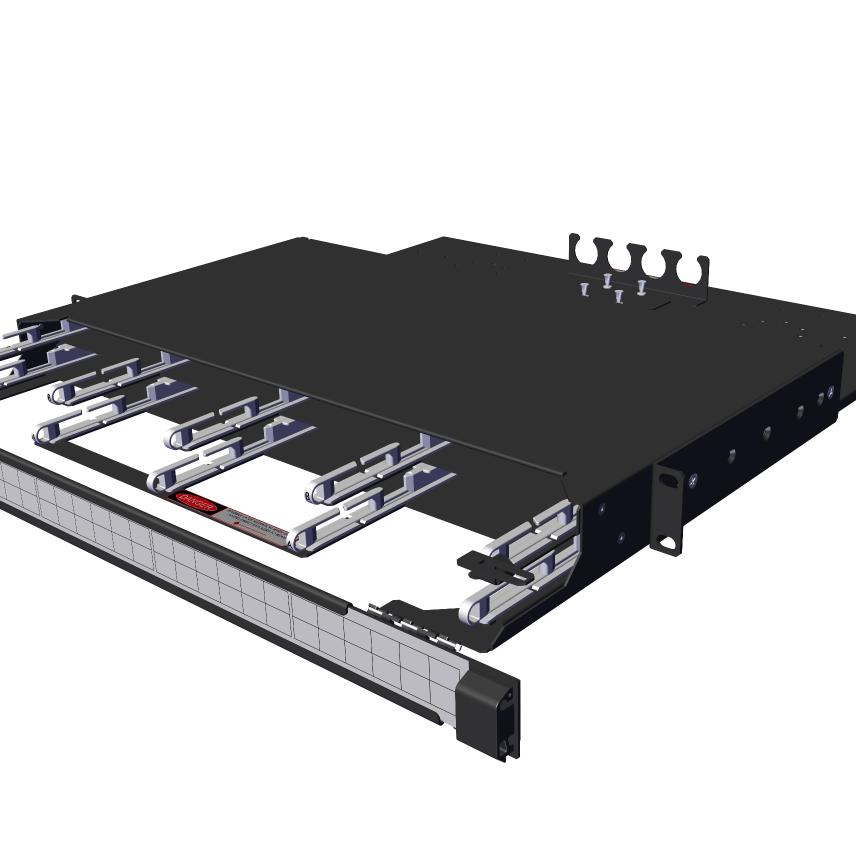 Optical patch panel with High Density (HD): up to 96 LCs or 48 MTPs in a rack unit
Up to 8 ENSPACE modules in 1U
ENSPACE modules can be installed from front and rear
Patch cord management for each individual level
Labelling front for port identification
Optimised for installation of ENSPACE Pre-Term with cable glands
Mehr lesen
Nexans ref. : NSPACE.PPHD1U
Beschreibung
Beschreibung
Normen
International

ISO/IEC 11801
The Nexans' ENSPACE concept is designed for data centres where the high density, integrated patch cord guides and enhanced installation benefits of the ENSPACE patch panel meet the key requirements for implementation. It allows quick changes with limited down time, easy migration to other applications and a migration path from duplex transmission to parallel optics.
The Nexans' unique ENSPACE HD 1U panel design has 2 fixed trays. Each tray can have up to 4 ENSPACE modules. The panel can accommodate up to 8 modules allowing 96 LC connections when modules with LC adaptors are used. With LANmark-OF ENSPACE MTP adaptor modules 48 MTP connections within 1U can be installed. ENSPACE modules need to be ordered separately.
The trays are staggered to facilitate patching and have easier access to the latch of the patch cord. The trays have printed letters for identification.
The patch panel is optimised for installation of the LANmark-OF ENSPACE Pre-Terms: the cable gland of the Pre-Term allows a fast and solid fixing of the cable. There is ample space inside the patch panel to organise the flexible fan-out of the Pre-Terms.
Each cable gland holder has 4 slots for the fixing of the Pre-Terms or cables. The slots are suitable for a PG-13 cable gland. Each panel is delivered with one holder. Additional cable gland holders are available as accessories. The orientation of the fixing kit can be modified to allow for side, angled or rear entry. The holder can be fixed on the left, middle and right of the panel.
A labeling front sits in front of the modules. It can rotate 180° even when ENSPACE patch panels are installed underneath. This facilitates port identification when the panel is mounted at the top of the rack.
Panels are fully painted in Black for a professional look and feel.
The panels are designed for installation inside 19 inch enclosures.
The total depth of the panel is 493mm. The panels are delivered with the labeling front projection 129mm in front of the rack vertical. The rear of the panel is 364mm recessed compared to the rack vertical. The position of the panel inside the rack can be changed with adjustable side brackets. It can be moved backwards compared to the rack vertical by 37.5mm or forward by 37,5mm or 75mm.
Eigenschaften
Eigenschaften
Abmessungsmerkmale
Abmessungsmerkmale
Unsere Websites
Wählen Sie Ihr Land aus, um unsere Produkte und Lösungen zu finden