LANmark-OF Ruggedised Patch Cords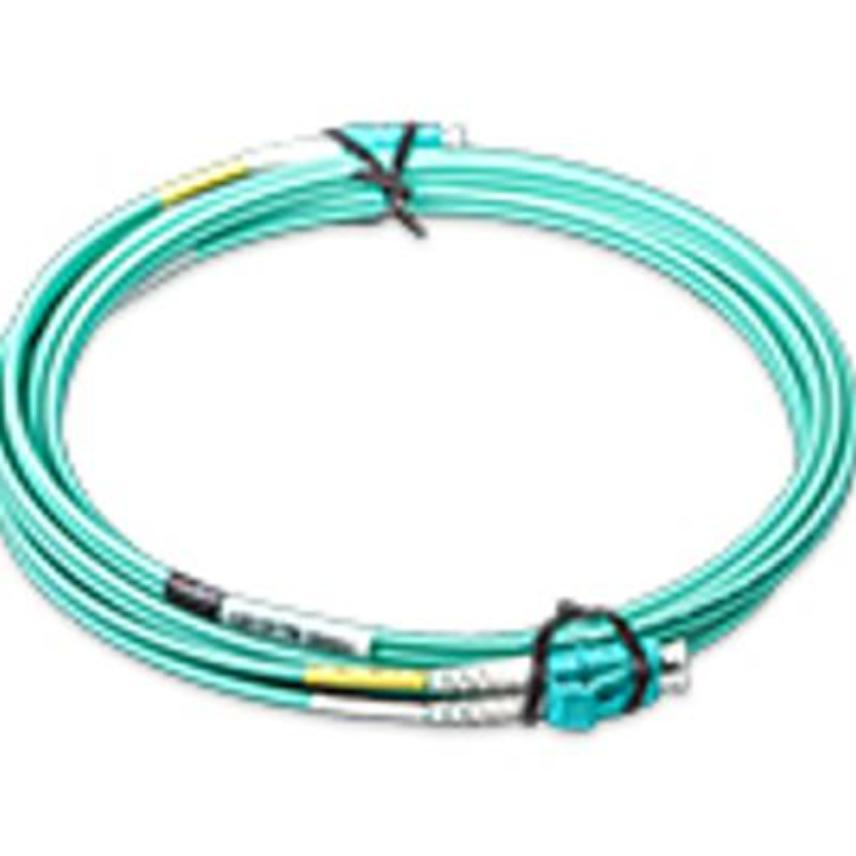 - Robuste Glasfaser-Patchkabel
- LANmark-OF OM3, OM4 und SM Leistung
- Für FTTO, FTTD und Installationen, die starken mechanischen Schutz erfordern
Mehr lesen
Beschreibung
Beschreibung
Normen
International

ISO/IEC 11801
Aufbau
Jede eng ummantelte Faser des Patchkabels ist durch eine Metallfeder geschützt. Dadurch entsteht ein mechanisch robustes Patchkabel mit einer sehr hohen Quetschfestigkeit.
Zwischen der Feder und dem LSZH-Mantel sind Aramidgarne zur Verstärkung der Zugkraft eingebracht.
Die Feder ist sehr flexibel, was zu einem Patchkabel mit einem Biegeradius von nur 30 mm führt.
Das Patchkabel hat einen Duplexkabelaufbau mit einem Durchmesser von 2 X 2,8 mm.
Installation und Garantien
Das Ruggedised-Patchkabel ist für den Einsatz in Innenräumen konzipiert und erfüllt die folgenden Normen zum Brandverhalten: IEC 60332-1 und IEC 60332-3.
Typische Fibre To The Office (FTTO) Installationen verwenden dieses robuste Patchkabel für die Verbindung zwischen den ZD-Boxen und den LANactive Office Switches. Die Länge beträgt dabei oft mehr als 5 m und die Kabel werden in engen Kanälen zwischen allen anderen Kabeln verlegt. Beides setzt das Kabel viel mehr mechanischer Belastung aus. Die Metallfeder im Inneren der Ruggedised Patchkabel schützt die Fasern gut. Der kleine Biegeradius von 30mm erlaubt es, das Patchkabel durch viele Windungen zu verlegen und der kurze Anschlussstecker von 19mm erleichtert den Anschluss an den LANactive Switch.
Auch Fibre To The Desk (FTTD) und andere anspruchsvolle Umgebungen, die einen starken mechanischen Schutz erfordern, sind Installationen, die von diesem neuen Patchkabel profitieren können.
Die Nexans LANmark-OF Glasfaser-Patchkabel wurden für Innenanwendungen zur Unterstützung von Hochgeschwindigkeitsprotokollen entwickelt.
Zu den unterstützten Hochgeschwindigkeitsprotokollen gehören unter anderem
Ethernet: 1GBase-SX, 1GBase-LX, 10GBase-SR, 10GBase-LR
Fibre Channel Seriell: 4G, 8G und 16G
Details zu den unterstützten Distanzen finden Sie in den LANmark-OF Garantiemodulen.
Eigenschaften
Patchcordkabel entspricht der IEC 60794-2-50
Maximale Einfügungsdämpfung nach IEC 61300-3-4: 0,25 dB
Typische Einfügungsdämpfung: 0,15 dB
Minimale Rückflussdämpfung nach IEC 61300-3-6: 30 dB für Multimode und 50 dB für Singlemode
Farbe des Mantels: Aqua für Multimode und Gelb für Singlemode
Ausführung
Nexans LANmark-OF Patchkabel sind nach dem "Cross-Over" Prinzip aufgebaut, um die Installation im Feld zu verbessern (A1-B2, B1-A2). Dies entspricht den Anforderungen der IEC 11801 und EN 50174-1:2009.
Eigenschaften
Eigenschaften
Übertragungseigenschaften
Übertragungseigenschaften
Insertion Loss, maximum, dB
Mechanische Eigenschaften
Mechanische Eigenschaften
Max. Zugkraft (IEC 60794-1-2-E1)
Querdruckwiderstand (IEC 794-1-E3)
Anwendungsmerkmale
Anwendungsmerkmale
Mindestbiegeradius bei statischem Einsatz