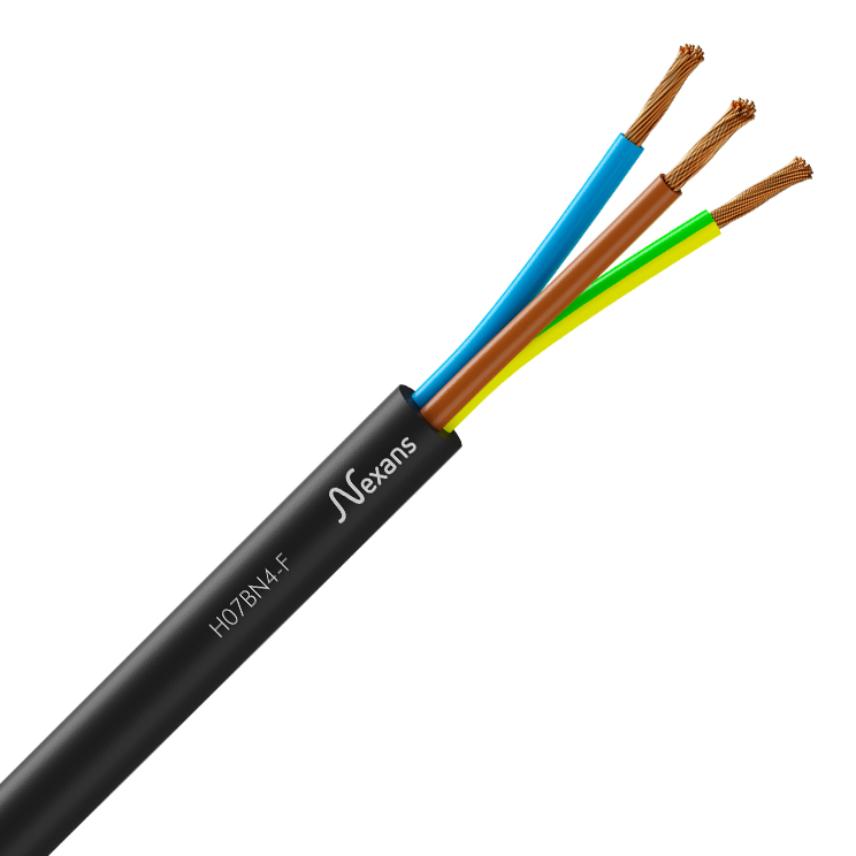 Flexibles Kabel mit hoher Hitzebeständigkeit, Isolierung und Mantel aus synthetischem Elastomer
Mehr lesen
Nexans ref. : 10061627
EAN : 3427680019943
Beschreibung
Beschreibung
Normen
International

EN 50525-2-21; HD 22.12; IEC 60245-4 type 66

National

NF C 32-102-12
Application
Maximale Betriebstemperatur für Leiter bei normalem Gebrauch:
+ 90°C (bei jedem Fall der flexiblen Installation)
+ 250°C (im Kurzschlußfall)
H07BN4-F cables are made with synthetic rubbers having an excellent temperature resistance and can be used for intensive applications. In this case H07BN4-F can be more adequate than standard H07RN-F cables for the same core section (wages of weight, dimension, and connection accessories). The use up to 1000 V in alternative current is authorized for protected static installation and for connecting of motors in lifting appliances.
Installation
This cable can be installed in open air or be buried but with extra mechanical protection (tube, gutter).
Conductors laid up
Assembled conductors.
USE <HAR> H07 BN4-F N X (or G ) S
N = number of cores
G = with Green-Yellow
x = without Green-Yellow
S = section in mm²
Nota
Max continuous operating conductor temperature in normal use :
+90°C ( in every case of mobile installation)
+250°C ( in short circuit )
Permissible current rating is measured for an ambient temperature of 30°C and a maximum operating and conductor temperature of 90°C . For other temperature please refer to correction factors .
Eigenschaften
Eigenschaften
Konstruktionsmerkmale
Konstruktionsmerkmale
Vernetztes Spezial-Elastomer
Speziell vernetztes Elastomer
Abmessungsmerkmale
Abmessungsmerkmale
Außendurchmesser Höchstwert
Außendurchmesser Mindestwert
Elektrische Eigenschaften
Elektrische Eigenschaften
Linearer Widerstand, max. Phase
Spannungsabfall, Dreiphasen.-
Spannungsabfall, Einphasen.-
Zulässige Belastbarkeit in Luft
Mechanische Eigenschaften
Mechanische Eigenschaften
Mechanische Festigkeit gegen Schläge
Anwendungsmerkmale
Anwendungsmerkmale
Max. Betriebstemperatur am Leiter
Max. Kurzschlusstemperatur am Leiter
Dynamischer Mindestbiegeradius während Anwendung
Mindestbiegeradius bei statischem Einsatz
Temperaturbereich bei fester Verlegung
Ressourcen
Ressourcen
Leistungserklärung
Leistungserklärung Nr (DoP) : 1000517-FRBH
Datum der Zertifizierung : 15.03.22
AVCP (Assessment and Verification of Constancy of Performance) : System 3
Benachrichtigte Stelle : NB0081
Erklärte Leistung : Eca
Unsere Websites
Wählen Sie Ihr Land aus, um unsere Produkte und Lösungen zu finden