MPRXCX® FLEXISHIP® EMC
0.6/1(1.2) kV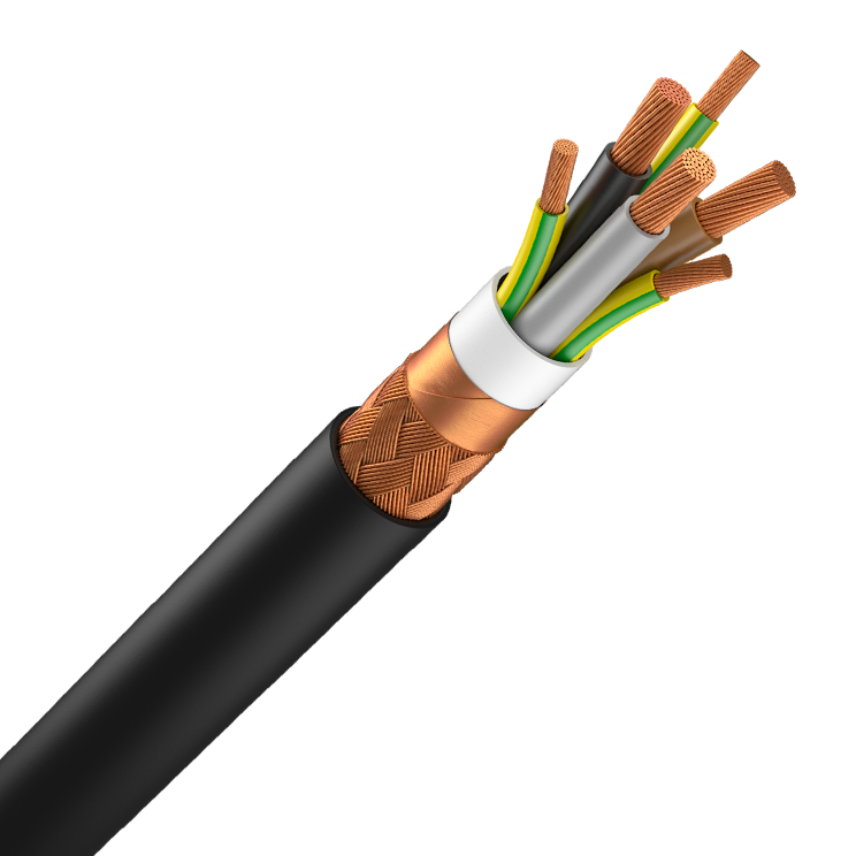 Beschreibung
Beschreibung
Normen
International

IEC 60092-350; IEC 60092-353; IEC 60092-360; IEC 60228; IEC 60332-3-22; IEC 60754-1; IEC 60754-2; IEC 61034
Application
Motor supply cable for frequency converters controlled low voltage AC drives on ships, called VFD applications. MPRXCX® FLEXISHIP® EMC cables are designed with a special coverage, copper-polyester tape and braid, which provide a 100% EMC protection. Insulation with low dielectric constant is used to reduce reflected wave voltage peak magnitude.
Symmetrical insulated ground wires, placed in corner, can reduce reflected wave and return common mode noisy currents back to the drive. Enhanced insulation is implemented for 0.6/1 (1.2) kV cable to fulfil periodic peak voltage up to 2xU=2 kV due to harmonics.
These cables are used on board of ships in all locations for fixed installations.
Design
Conductor:
Flexible bare copper class 5
Stranded bare copper class 2 for cross-section < 4 mm²
Insulation:
XLPE (cross linked polyethylene)
Optional
Return earth conductor
Assempling:
Polyester tape
Screen / Armouring:
Copper / polyester tape
Bare copper braid
Outer sheath:
Polyolefin SHF1 (SHF2 on request)
Colour: black
Marking
NEXANS 279 MPRXCX FLEXISHIP EMC Nber of cores & cross-section 0.6/1 kV 90C
IEC 60092-353 IEC 60332-22 Cat. A SS YYYY *CE* Manufacturing n° + metric marking
Core Identification
3 cores: black-grey-brown
Earth: green/yellow split in 3 conductors
Eigenschaften
Eigenschaften
Konstruktionsmerkmale
Konstruktionsmerkmale
VPE (vernetztes Polyethylen)
Abmessungsmerkmale
Abmessungsmerkmale
Außendurchmesser Mindestwert
Außendurchmesser Höchstwert
Anwendungsmerkmale
Anwendungsmerkmale
Korrosivität der (Brand-)Gase
niedrig, gem. IEC 60754-2
Elektromagnetisch geschirmt
Unsere Websites
Wählen Sie Ihr Land aus, um unsere Produkte und Lösungen zu finden